20 Years a Cincinnati Magazine "TOP DOC"
Weight Watchers for Life
Mused after making my grocery list for Super Bowl food this Sunday: chicken wings, guacamole, chili, sub sandwich, and oh yes, a beer or two. Hope you enjoy the unofficial holiday!
Weight Watchers Wants You for Life
"It has been demonstrated that the longer that people stay in contact with a weight-loss program, the better the results." -Donald Hensrud, medical director Mayo Clinic Healthy Living Program.
Weight Watchers is shifting their emphasis from a weight loss program to promoting healthiness as a way of living. This entails keeping subscribers longer in their program and taking away the "diet" mentality.
(Did You Know? Oprah owns a stake in Weight Watchers and acts as its spokeswoman. She emphasizes gratitude, forgiveness, and mindfulness.)
Weight watchers has done several things to promote these lifelong changes. They have increased foods that can be eaten in unlimited quantities to over 200. (If you don't know how Weight Watchers works, it uses points to represent foods and you eat so many points a day. So 0 points can be eaten without limit. Some examples are eggs, skinless chicken and shellfish.) Also, they have set up a site, Connect, for members to swap personal stories and ask advice.
According to the article, a digital membership is $19.95/month and the plan for in person meetings is $44.95/month.
-Ellen Byron, WSJ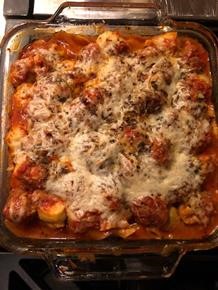 LA DOLCE VITA
Baked pasta. Put uncooked pasta in bottom of baking dish, add uncooked meatballs, coat with jar spaghetti sauce then mozzarella cheese. Repeat a second layer. Fill about half way with water. Cover with aluminum foil and cook one hour at 350 degrees. Let stand for 10 minutes. I also added artichokes but other meats and vegetables would taste good too.
SERVICE OF THE WEEK:
Dislike putting makeup on every day?
Permanent makeup allows you to wake up without the need to add eyeliner, eyebrows, lipstick or lip liner. Eyebrows are added individually in a process called microblading. Call Karine for the cost involved. 513-793-5772.
SKIN CARE SPECIAL:
Dry Skin? Biopelle Intensive Serum is a 10 day "boot camp" made to moisturize the driest of skins this time of year. Normally $195, it is now $145.
Healthy living,
Peter McKenna, M.D.
513.793.5772
www.mckennamd.com
McKenna Cosmetic Surgery Center . 10577 Montgomery Road . Cincinnati . OH . 45242
A Cincinnati Magazine "Top Doc" since 1998
Leave a reply →