Mused after reading an article that referenced Truman Capote's Breakfast at Tiffany's which starred Audrey Hepburn. Her character, Holly Golightly, feels Tiffany's is where "nothing very bad could happen to you." What place makes you feel safe and happy?
A "Mommy Makeover" is an improvement of the appearance of breasts and abdomen at the same time. It can be done shortly after a last child is born or years later depending on circumstances. The important thing is to feel better about yourself and the way you look in and out of clothes.
The breast improvements may involve implants, a breast lift, both implants and lift or occasionally a reduction. The abdomen can be improved through tummy tucks or liposuction. Often times we do liposuction in addition to the tummy tuck. There is also a variety of tummy tucks depending on what needs improved.
(Did You Know? To see the services we offer, pictures of various surgeries and get to know us better go to our new web site www.mckennamd.com. It is easy especially from your phone.)
The advantages of doing surgeries together are less recuperation, downtime and money (we discount the surgeon fee on multiple surgeries by 10%). Of course there is a limit to the amount of surgery or liposuction we will perform since safety is our most important concern.
Here's a recent patient:
One month after breast lift, augmentation, tummy tuck and hip liposuction
CoolSculpting Special: Today is the beginning of Allergan's special in conjunction with Brilliant Distinctions. Those with a Brilliant Distinction's account with Allergan will automatically receive an email with the coupon to save $200 on 6 cycles (a cycle is one spot treated), $300 off 8 cycles and $500 off 12 cycles. Call for details.
CoolSculpting is a technique to freeze unwanted fat from a variety of areas. With our "Dual Sculpting" (two machines) the time is halved and flanks or abdomen can often be done in under an hour. The most common areas are abdomen, flank/side, thighs, hips, arms, back, under buttock, bra line and under the chin. The fat cells are permanently removed. Best of all is that there is almost no downtime so you can resume your activities the same day! Call Joni who has 5 years' experience to discuss your situation 513-793-5772.
Lower Abs and Flanks: Before and One Month CoolSculpting Post-Treatment
Do your Yoga pants/Swimsuits show cellulite?
Cellfina, www.cellfina.com, is the only FDA-cleared minimally invasive procedure clinically proven to improve the appearance of cellulite for at least three years. The best candidate has dimpling that is not caused by loose skin. The benefits are a long-lasting, single, in-office treatment that usually takes under an hour. No general anesthesia is needed and downtime is limited in most cases to the day of treatment. 96% of patients were satisfied after two years. The cost normally is $4,000-$6,000 but the special price is $3,000 for a limited time. Call 513-793-5772 for a complimentary consultation or more information.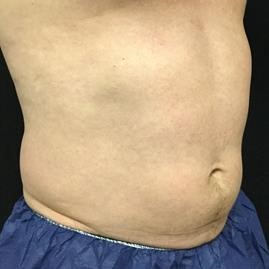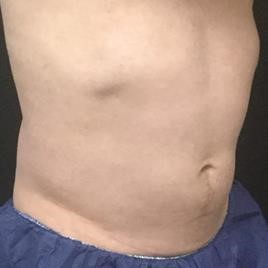 Before and one month post-treatment
LA DOLCE VITA:
The article I read under Musings included a recipe from Williams Sonoma. Brown 2 lbs. of chicken thighs remove and brown 1 lb. of chorizo remove. Sauté 1 onion and 1 red pepper sliced thinly. Then add 2 minced cloves of garlic for one minute. Add 28 oz. can tomatoes, 32 oz. of chicken broth and both meats. Simmer for 45-60 minutes until liquid thickens.
TESTIMONIAL OF THE WEEK:
"Thank you very much for the service you provide. Helping people feel good about themselves is a valuable contribution to the community. I'm very grateful to you and your team for helping me with my goals. Being treated with dignity and respect throughout the entire process was appreciated more than I can express. Your staff is amazing! Have a fabulous 2019." Julie
Microblading is a technique of applying permanent makeup to your eyebrows with individual strokes simulating individual hairs.
Collagen Induction Therapy or microneedling reduces facial pigmentation and improves wrinkles.
Sclerotherapy improves spider veins in your legs.
SKIN CARE SPECIAL:
This month's special are products with the skin hydrating and plumping hyaluronic acids. These include: SkinCeuticals B5 gel, Phytocorrective gel, and HA intensifier as well as SkinMedica's HA5. All will be 15% off.
Healthy living,
Peter McKenna, M.D.
513.793.5772
www.mckennamd.com
McKenna Cosmetic Surgery Center . 10577 Montgomery Road . Cincinnati . OH . 45242
A "Top Doc" since 1998
Allergan Top 500 Practice
Leave a reply →