Patient Appreciation: In an effort to show how much we appreciate the loyalty of our patients we will be having a variety of specials. Some may be for one day, others like the micropeel and liposuction specials will last for months. Stay tuned…
Liposuction Special: One site (eg. tummy, lateral thighs, or neck) will be 10% off, two sites 20% and three or more sites, 30% of the surgeon's fee. Consultation appointments must be made between now and August 31, 2018 and surgery performed before September 30, 2018. Liposuction recuperation in most cases is modest allowing you to continue to enjoy your summer!
Mused after bike riding and running this weekend. Great days (including today) to walk, run, bike ride or sit under a tree. Just remember to use your sunscreen!
Melanoma has increased eightfold in women ages 18-39 from 1970 to 2009! A recent study in Japan showed that one application of sunscreen effectively covered only 60% of the intended area but a second application increased this to 90%.
Both types of rays from the sun, UVA and UVB can do damage to collagen fibers leading to premature aging of the skin AND can damage DNA contributing to skin cancer. UVA rays penetrate deeper into the skin and have the ability to pass through glass and clouds. SPF is an acronym for Sun Protection Factor which only rates the amount of UVB rays that reach the skin. Therefore it is important to use a "Broadspectrum" product for both UVB and UVA protection.
It is recommended that the SPF be a minimum of 15. This allows 1/15th of the sun's UVB radiation to reach the skin. SPF 30 allows 1/30th of the rays and a 96% UVB protection. It is also recommended to apply sun protection 30 minutes before sun exposure to allow the chemicals to absorb into the skin. Reapplying the product every 2 hours is necessary because the formulas break down in the presence of sunlight within that time. Use about two tablespoons to cover face neck, chest, ears, and hands.
(Did You Know? Anti-oxidants like vitamin C serum when applied before your sunscreen help to prevent sun damage which can accelerate aging and wrinkles.)
All of the sun protection products at our office have both UVA and UVB formulations. We also sell a number of anti-oxidant, vitamin C serums. Call to make an appointment to see one of our skin care nurses who will clarify which product would be best for you. The skin care nurses are available Monday through Friday with some evening and Saturday hours.
LA DOLCE VITA
I enjoyed dinner at Cooper's Hawk this past weekend. The food was good and they have an extensive menu. Known for the wine they make, they also have a number of cocktails at a reasonable price.
TESTAMONIAL OF THE WEEK:
"Dr. McKenna's staff was phenomenal. He took good care of me and was compassionate." Anne
OTHER SERVICES:
Permanent Makeup?
Micro-blading is a technique of applying permanent makeup to your eyebrows with individual strokes simulating individual hairs. We also do permanent eyeliner and lips.

OTHER SERVICES
Cellulite?
Cellfina, www.cellfina.com, is the only FDA-cleared minimally invasive procedure clinically proven to improve the appearance of cellulite for at least three years. The best candidate has dimpling that is not caused by loose skin. The benefits are a long-lasting, single, in-office treatment that usually takes under an hour. No general anesthesia is needed and downtime is limited in most cases to the day of treatment. 96% of patients were satisfied after two years.

Facial Wrinkles?
Vollure is the newest filler for fine wrinkles. It doesn't project as much as Juvederm but is smoother and lasts up to 18 months. Volbella is a lip filler that DOES NOT exaggerate the lips but improves wrinkles and creases in the lips and the skin just above the lips. Studies show it lasts for about a year. Come in and see what it has done for Diane, Crystal and Dianna. Voluma augments the cheeks and lifts some of the lower tissues.
Neck Bands or Hypersweating under Arms?
Botox can help with both. Come in for a free consult.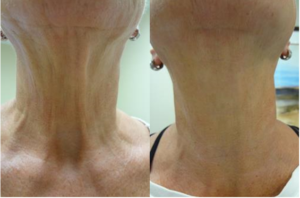 Weak Chin, Nasal Imperfections, Aging or Thin Earlobes?
Juvederm plumps chins and earlobes and sometimes nasal imperfections.

Fat under Chin?
Kybella is an injected solution that melts the fat under your chin.
Permanent Makeup?
Micro-blading is a technique of applying permanent makeup to your eyebrows with individual strokes simulating individual hairs. We also do permanent eyeliner and lips.
Lax Skin or Brown Spots?
Collagen Induction Therapy or microneedling reduces facial pigmentation and improves wrinkles.
Do you have unsightly brown spots on your face, hands or body?
SkinCeuticals (many of you use their skincare products) has developed a "pen" that uses cryotherapy or freezes age and sun spots as well as skin tags. It uses carbon dioxide which freezes the superficial part of the skin at -79 degrees C. The technique is similar to when family physicians and dermatologists use liquid nitrogen to treat skin cancers.
The procedure takes just a few minutes. The area is cleansed then sprayed with CO2 to freeze the spot. There is very little if any temporary discomfort. Immediately after, Vitamin C is applied and so can makeup. Vitamin C and a sunscreen are encouraged and should be applied while healing.
The lesion will get darker and possibly scab before it sheds. It can take 7-21 days to shed completely. Healthy pink skin or lightening of the dark spot will appear. Maturation of the skin then follows the normal skin cycle of 6 weeks.
If the spot is appropriate, we charge $150 for the first three spots then $30 for each thereafter.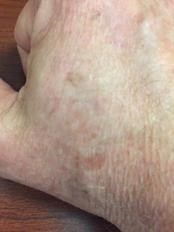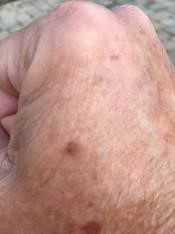 Pre-treatment One week three weeks
Leg Veins?
Sclerotherapy improves spider veins in your legs.
SKIN CARE SPECIAL:
Micropeels 3 for $235. Micropeels are individually $98. Limit one package of three per patient.
Healthy living,
Peter McKenna, M.D.
513.793.5772
www.mckennamd.com
McKenna Cosmetic Surgery Center . 10577 Montgomery Road . Cincinnati . OH . 45242
A Cincinnati Magazine "Top Doc" since 1998
Leave a reply →