Botox Day is Tuesday September 11 with discounts on Botox and fillers such as Juvederm. Botox is $13/unit or $195/syringe (normally $16/unit and $240/syringe) and fillers are 10% off. Voluma is an injectable filler that augments and lifts the cheeks and Volbella subtly augments the lips and improves perioral wrinkles. A new product, Vollure, is for fine lines and wrinkles.
Mused after watching Ozark on Netflix. It's about a family that gets involved with money laundering with a Mexican drug cartel. They launder the money in the Ozarks and quite an interaction with the locals. Great acting by Jason Bateman, Laura Linney and Julia Garner.
Probiotic Myths
1. Probiotics are proven to help with weight loss. While they may, as well as improve blood pressure and blood sugar, there are no definitive studies, yet.
2. All probiotics do the same thing. There are different microbes and while some are proven to help a specific medical condition, others have not.
3. Probiotics improve overall gut health. They may not improve health but some conditions are helped. Some gut viruses when treated with the right probiotic will shorten the symptoms.
(Did You Know? Probiotics are live bacteria or yeast that are good for you. One common type is lactobacillus which is commonly found in yogurt.)
4. Wait to take probiotics until after you finish antibiotics. Actually taking certain types of probiotics decreases the chance of diarrhea from antibiotics.
5. Probiotics should be taken on an empty stomach. Taking a probiotic during a meal helps the survival of the microbe.
6. All fermented foods contain probiotics. Yogurt, some cheeses, sauerkraut, kefir, kombucha, and even chocolate are a few fermented foods that have the microbes. But if the foods are pasteurized (heated to kill "bad" bacteria) after fermentation then the probiotics are killed.
-Tufts Health and Nutrition Letter
LA DOLCE VITA
I tried Kroger's fresh made bagels this past weekend. Not a carb person I was impressed with their taste since I have recently been to NYC and had one there. Added smoked salmon (from Costco), red onions, tomatoes, capers, dill cream cheese and crème fraiche. Thought I was back in NYC.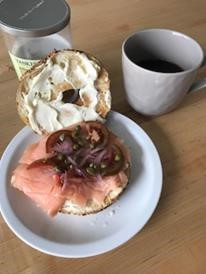 OTHER SERVICES
Cellulite?
Cellfina, www.cellfina.com, is the only FDA-cleared minimally invasive procedure clinically proven to improve the appearance of cellulite for at least three years. The best candidate has dimpling that is not caused by loose skin. The benefits are a long-lasting, single, in-office treatment that usually takes under an hour. No general anesthesia is needed and downtime is limited in most cases to the day of treatment. 96% of patients were satisfied after two years.
Facial Wrinkles?
Vollure is the newest filler for fine wrinkles. It doesn't project as much as Juvederm but is smoother and lasts up to 18 months. Volbella is a lip filler that DOES NOT exaggerate the lips but improves wrinkles and creases in the lips and the skin just above the lips. Studies show it lasts for about a year. Come in and see what it has done for Diane, Crystal and Dianna. Voluma augments the cheeks and lifts some of the lower tissues.
Neck Bands or Hypersweating under Arms?
Botox can help with both. Come in for a free consult.
Weak Chin, Nasal Imperfections, Aging or Thin Earlobes?
Juvederm plumps chins and earlobes and sometimes nasal imperfections.
Fat under Chin?
Kybella is an injected solution that melts the fat under your chin.
Permanent Makeup?
Micro-blading is a technique of applying permanent makeup to your eyebrows with individual strokes simulating individual hairs. We also do permanent eyeliner and lips.
Lax Skin or Brown Spots?
Collagen Induction Therapy or microneedling reduces facial pigmentation and improves wrinkles.
Do you have unsightly brown spots on your face, hands or body?
SkinCeuticals (many of you use their skincare products) has developed a "pen" that uses cryotherapy or freezes age and sun spots as well as skin tags. It uses carbon dioxide which freezes the superficial part of the skin at -79 degrees C. The technique is similar to when family physicians and dermatologists use liquid nitrogen to treat skin cancers.
The procedure takes just a few minutes. The area is cleansed then sprayed with CO2 to freeze the spot. There is very little if any temporary discomfort. Immediately after, Vitamin C is applied and so can makeup. Vitamin C and a sunscreen are encouraged and should be applied while healing.
The lesion will get darker and possibly scab before it sheds. It can take 7-21 days to shed completely. Healthy pink skin or lightening of the dark spot will appear. Maturation of the skin then follows the normal skin cycle of 6 weeks.
If the spot is appropriate, we charge $150 for the first three spots then $30 for each thereafter.
Leg Veins?
Sclerotherapy improves spider veins in your legs.
SKIN CARE SPECIAL:
Rid your skin of the damage caused by this summer's harsh sun with one of our exfoliating products. Some include: Obagi Exfoderm Exfoderm forte, Dermesse exfoliator and exfoliator forte, SkinCeuticals Retexturing Activator, Dermesse Sugar Scrub and Baby Foot. All are 20% off!
Healthy living,
Peter McKenna, M.D.
513.793.5772
www.mckennamd.com
McKenna Cosmetic Surgery Center . 10577 Montgomery Road . Cincinnati . OH . 45242
A Cincinnati Magazine "Top Doc" since 1998
Leave a reply →