Breast Augmentations on new patients between now and May 31 are just $4995!  This includes surgeon's fee, anesthesia and OR fees AND implants!  Schedule your consultation by May 31 and complete the surgery by June 30.  Some restrictions apply.  Call for your complimentary consultation.
 Mused after Ghost and I went to the Oakley Pup Crawl.  A benefit for cancer, it allowed dogs into a number of local establishments.  A shot out to the nice young lady who helped us at registration and told me she had an appointment with me in a couple of weeks.
Nuts
Nuts are a source of unsaturated fats, fiber and protein.  They also have vitamin E and magnesium.  Perhaps the most important quality of nuts is the ability to be a substitute for unhealthy snack choices.
There are a number of health benefits.  People who eat nuts regularly tend to have lower "bad" cholesterol than those who don't eat them.  Also, nut-eaters are less likely to be diagnosed with diabetes.  This is part of the Mediterranean diet.  Being dense in calories, some of nut passes directly through the gut and are not absorbed.  They also tend to be more filling.
(Did You Know?  Most nuts are tree nuts but peanuts are legumes.  Walnuts, almonds and pecans are "drupes" consisting of a fleshy fruit on the outside and a hard-shelled pit enclosing a soft nut or seed.)
 For most people, 1-2 one-ounce servings of nuts per day is a reasonable goal.  They can be eaten as a snack between meals or added to cereal (I do this) or yogurt as well as other foods.
 –Tufts Health and Nutrition Letter
 LA DOLCE VITA
The Kroger at Harper's Point in Symmes has recently opened three restaurants in the store.  They are The Chicken Company, Eli's and Mazunte.  Each has a main stream restaurant elsewhere.  The food can be eaten there or taken home.  I have tasted each and they are all wonderful.
TESTAMONIAL OF THE WEEK:
"All of the nurses were very welcoming & made me feel comfortable.  Nurse Diane was awesome!"  Beth
SERVICE OF THE WEEK:
Permanent Makeup for Eyebrows, Eyelids, and Luscious Lips!
Want to wake up and not have to put on makeup?  Eyebrows sparse and need penciling in?  Permanent makeup can improve those.  A couple of hours and a very natural appearance can be attained.  Eyebrows are done with individual strokes called microblading to create hairs.  For April all permanent makeup will be 10% off.  Contact Karine for any questions and the cost.  513-793-5772.

OTHER SERVICES
Cellulite?
Cellfina, www.cellfina.com, is the only FDA-cleared minimally invasive procedure clinically proven to improve the appearance of cellulite for at least three years.  The best candidate has dimpling that is not caused by loose skin.  The benefits are a long-lasting, single, in-office treatment that usually takes under an hour.  No general anesthesia is needed and downtime is limited in most cases to the day of treatment.  96% of patients were satisfied after two years.

 Facial Wrinkles?
Vollure is the newest filler for fine wrinkles.  It doesn't project as much as Juvederm but is smoother and lasts up to 18 months.  Volbella is a lip filler that DOES NOT exaggerate the lips but improves wrinkles and creases in the lips and the skin just above the lips.  Studies show it lasts for about a year.  Come in and see what it has done for Diane, Crystal and Dianna.  Voluma augments the cheeks and lifts some of the lower tissues.
Neck Bands or Hypersweating under Arms?
            Botox can help with both.  Come in for a free consult.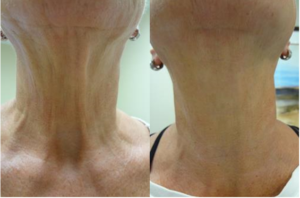 Weak Chin, Nasal Imperfections, Aging or Thin Earlobes?
            Juvederm plumps chins and earlobes and sometimes nasal imperfections.
Fat under Chin?
Kybella is an injected solution that melts the fat under your chin.

Permanent Makeup?
Microblading is a technique of applying permanent makeup to your eyebrows with individual strokes simulating individual hairs.  We also do permanent eyeliner and lips.
Lax Skin or Brown Spots?
Collagen Induction Therapy or microneedling reduces facial pigmentation and improves wrinkles.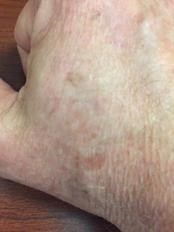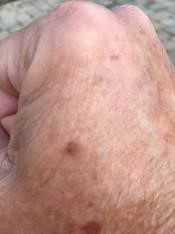 Pre-treatment                          One week                                three weeks
Leg Veins?
Sclerotherapy improves spider veins in your legs.
SKIN CARE SPECIAL:
Oily or Acne prone skin?  Obagi has new acne cleansing wipes.  Purchase them and get 20% off any vitamin C product.
Healthy living,
Peter McKenna, M.D.
513.793.5772
McKenna Cosmetic Surgery Center . 10577 Montgomery Road . Cincinnati . OH . 45242
A Cincinnati Magazine "Top Doc" since 1998
Leave a reply →