Botox Day Tomorrow Tuesday January 22nd
We will be having a CoolSculpting Open House on Tuesday, January 29th from 5:30-7:30. Free brief assessments of areas and suitability will be done. The first 20 RSVPs are entered to win a free cycle (one area of treatment). Anyone scheduling that evening will receive 25% off and anyone purchasing 4 or more cycles will receive a free site of Botox. Meet the staff and enjoy food and drink while learning what CoolSculpting is all about!
CoolSculpting is a technique to freeze unwanted fat from a variety of areas. With our "Dual Sculpting" (two machines) the time is halved and flanks or abdomen can often be done in under an hour. The most common areas are abdomen, flank/side, thighs, hips, arms, back, under buttock, bra line and under the chin. The fat cells are permanently removed. Best of all is that there is almost no downtime so you can resume your activities the same day! Call Joni who has 5 years' experience to discuss your situation 513-793-5772.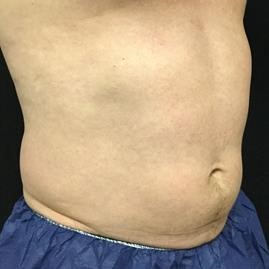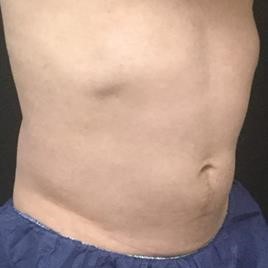 Lower Abs and Flanks: Before and One Month Post-Treatment
Botox Day is Tuesday, January 22nd with discounts on Botox and fillers such as Juvederm. Botox is $13/unit or $195/syringe (normally $16/unit and $240/syringe). Fillers are 10% off our regular price. Juvederm is the most common filler for "raising" facial wrinkles. Voluma is an injectable filler that augments and lifts the cheeks and Volbella and Vollure subtly augment the lips and improve perioral wrinkles.
Mused after seeing the Super Blood Wolf Moon. Saw some of the eclipse and the beautiful moon this am. Hope you got a chance to see some of nature's wonder.
LA DOLCE VITA:
Nice article on John Peterman (aka J. Peterman from Seinfeld and the J. Peterman catalogs) in Saturday's WSJ. He travels the world looking for unusual things to sell in his catalog and uniquely describes each one next to a drawing of the article. Once you see his catalog you never forget its distinct style. The point is his philosophy is that if you "want to find the proper cut of a kilt, you must tramp around Scotland to find it yourself." His philosophy is "you only fail when you give up."
TESTIMONIAL:
"What a great experience! From check in to check out! The entire staff was courteous, friendly, and accommodating. Everything was explained in detail. The staff added humor and made me feel comfortable. Dr. McKenna had great bedside manner. Explained everything in detail & made certain I was comfortable & all questions answered. What a great experience, with great results-thank you." -Bill
SKIN CARE SPECIAL:
This month's special are products with the skin hydrating and plumping hyaluronic acids. These include: SkinCeuticals B5 gel, Phytocorrective gel, and HA intensifier as well as SkinMedica's HA5. All will be 15% off.
Healthy living,
Peter McKenna, M.D.
513.793.5772
McKenna Cosmetic Surgery Center . 10577 Montgomery Road . Cincinnati . OH . 45242
Leave a reply →