For those getting Botox or fillers next Tuesday we are offering one FREE treatment to an age, sun spot or skin tag! See below for details.
Botox Day is Tuesday January 16 with discounts on Botox and fillers such as Juvederm. Botox is $13/unit or $195/syringe (normally $16/unit and $240/syringe) and fillers are 10% off. Voluma is an injectable filler that augments and lifts the cheeks and Volbella subtly augments the lips and improves perioral wrinkles. A new product, Vollure, is for fine lines and wrinkles.
Mused drinking a scoop of whey protein in water before going out to dinner. Ate and drank less. Try it to cut restaurant calories.
Healthy Meals with Pasta.
Americans consume 6 billion pounds of pasta. Here are some tips to make yours more healthy.
Use whole-grain pasta. I usually choose one with added protein.
Use the pasta as a side dish instead of a main dish.
For non-tomato toppings try olive oil, garlic, herbs and red pepper flakes. Or consider peanut pasta with sesame oil, rice vinegar, and soy sauce with vegetables.
Replace some of the pasta with beans much like a French cassoulet. Or, se less protein and add beans.
(Did You Know? Refined grains have the outer, fiber-rich layer removed and use only the middle layer which is refined carbohydrate.)
For protein try shrimp, skinless chicken or ground turkey.
Use pastas with brown rice, barley, farro, quinoa, oats or flax seed.
Lastly, just eat a smaller portion of pasta.
-Tufts Health and Nutrition Letter
Do you have unsightly brown spots on your face, hands or body?
SkinCeuticals (many of you use their skincare products) has developed a "pen" that uses cryotherapy or freezes age and sun spots as well as skin tags. It uses carbon dioxide which freezes the superficial part of the skin at -79 degrees C. The technique is similar to when family physicians and dermatologists use liquid nitrogen to treat skin cancers.
The procedure takes just a few minutes. The area is cleansed then sprayed with CO2 to freeze the spot. There is very little if any temporary discomfort. Immediately after, Vitamin C is applied and so can makeup. Vitamin C and a sunscreen are encouraged and should be applied while healing.
The lesion will get darker and possibly scab before it sheds. It can take 7-21 days to shed completely. Healthy pink skin or lightening of the dark spot will appear. Maturation of the skin then follows the normal skin cycle of 6 weeks.
Pre-treatment One week Three weeks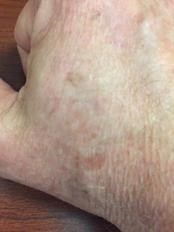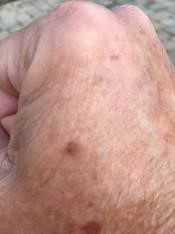 LA DOLCE VITA
Mary Jane, our esthetician, provides services such as waxing, eyelashes, massage facials. She is here most days of the week.
OTHER SERVICES
Cellulite?
Cellfina, www.cellfina.com, is the only FDA-cleared minimally invasive procedure clinically proven to improve the appearance of cellulite for at least three years. The best candidate has dimpling that is not caused by loose skin. The benefits are a long-lasting, single, in-office treatment that usually takes under an hour. No general anesthesia is needed and downtime is limited in most cases to the day of treatment. 96% of patients were satisfied after two years.
Facial Wrinkles?
Vollure is the newest filler for fine wrinkles. It doesn't project as much as Juvederm but is smoother and lasts up to 18 months. Volbella is a lip filler that DOES NOT exaggerate the lips but improves wrinkles and creases in the lips and the skin just above the lips. Studies show it lasts for about a year. Come in and see what it has done for Diane, Crystal and Dianna. Voluma augments the cheeks and lifts some of the lower tissues.
Neck Bands or Hypersweating under Arms?
Botox can help with both. Come in for a free consult.
Aging or Thin Earlobes?
Juvederm plumps earlobes.
Fat under Chin?
Kybella is an injected solution that melts the fat under your chin.
Permanent Makeup?
Microblading is a technique of applying permanent makeup to your eyebrows with individual strokes simulating individual hairs. We also do permanent eyeliner and lips.
Lax Skin or Brown Spots?
Collagen Induction Therapy or microneedling reduces facial pigmentation and improves wrinkles.
Leg Veins?
Sclerotherapy improves spider veins in your legs.
Sore Muscles?
Massages most Thursdays here in the office.
SKIN CARE SPECIAL:
Dry Skin? Biopelle Intensive Serum is a 10 day "boot camp" made to moisturize the driest of skins this time of year. Normally $195, it is now $145.
Healthy living,
Peter McKenna, M.D.
513.793.5772
www.mckennamd.com
McKenna Cosmetic Surgery Center . 10577 Montgomery Road . Cincinnati . OH . 45242
A Cincinnati Magazine "Top Doc" since 1998
Leave a reply →