20 Years a Cincinnati Magazine "TOP DOC"

Botox Day is Tuesday November 13 with discounts on Botox and fillers such as Juvederm. Botox is $13/unit or $195/syringe (normally $16/unit and $240/syringe). Fillers are $100 off our regular price. Juvederm is the most common filler for "raising" facial wrinkles. Voluma is an injectable filler that augments and lifts the cheeks and Volbella and Vollure subtly augment the lips and improve perioral wrinkles.
Mused after eating at Two Cities Pizza. Pizzas are made like those in Chicago and New York. Delicious and not far off the mark. Worth the trip to Mason.
Muscle More Important than Weight?
A recent study from the University of Alberta has found that women with a "healthy" BMI (weight) but low levels of lean muscle have the highest risk of death, even compared with those who have excess body fat.
While low muscle levels are epidemic among older women, the researcher is seeing it in younger women. The two reasons are declining activity and detox and ultra-low-calorie diets. These diets cause your body to burn muscle for fuel.
(Did You Know? On average we lose 8% of our muscle mass every decade after age 30.)
Weight training has benefits besides increasing muscle mass. Sleep can be improved, a stronger heart helps ward off cardiovascular disease, there may be some immune advantages from an increased muscle mass, fewer sick days and falls, and lastly, some believe exercise reduces memory lapses.
-Women's Health
LA DOLCE VITA
For those of you with Netflix, there is a great series from the BBC called "Bodyguard". An intense plot centering on terrorism and politics humanized by a bodyguard trying to deal with his own PTSD and protecting a minister whose philosophy clashes with his. Stars Ricard Madden who played Robb Stark in "Game of Thrones". Only six one hour episodes, it was the UK's most watched show since "Downton Abbey".
SERVICES:
There are a number of other services either I or my staff provide that have little or no downtime. Our Micropeels, or lunchtime peels, are probably the best known as we have hundreds of patients (yes women AND MEN) who come in regularly for this. The exfoliation and mild peel not only improves the appearance of the skin on your face but allows our prescription strength products to be more effective.
Cellulite?
Cellfina, www.cellfina.com, is the only FDA-cleared minimally invasive procedure clinically proven to improve the appearance of cellulite for at least three years. The best candidate has dimpling that is not caused by loose skin. The benefits are a long-lasting, single, in-office treatment that usually takes under an hour. No general anesthesia is needed and downtime is limited in most cases to the day of treatment. 96% of patients were satisfied after two years.

Permanent Makeup?
Micro-blading is a technique of applying permanent makeup to your eyebrows with individual strokes simulating individual hairs. We also do permanent eyeliner and lips.

Facial, Neck, Chest, or Hand Wrinkles? Brown Spots?
Collagen Induction Therapy or microneedling reduces pigmentation and improves wrinkles with virtually no down time. Multiple treatments are needed but can be done within an hour. Call for our packages.
Neck Bands or Hypersweating under Arms?
Botox can help with both. Come in for a free consult.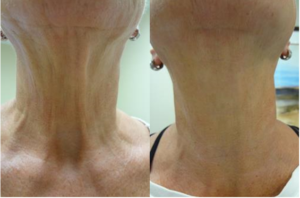 Weak Chin, Nasal Imperfections, Aging or Thin Earlobes?
Juvederm plumps chins and earlobes and sometimes nasal imperfections.

Fat under Chin?
Kybella is an injected solution that melts the fat under your chin.
Do you have unsightly brown spots on your face, hands or body?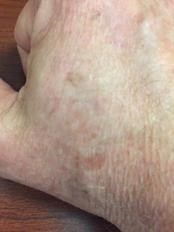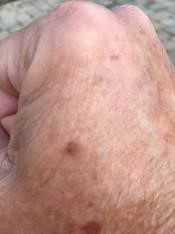 SkinCeuticals (many of you use their skincare products) has developed a "pen" that uses cryotherapy or freezes age and sun spots as well as skin tags. It uses carbon dioxide which freezes the superficial part of the skin at -79 degrees C. The technique is similar to when family physicians and dermatologists use liquid nitrogen to treat skin cancers.
The procedure takes just a few minutes. The area is cleansed then sprayed with CO2 to freeze the spot. There is very little if any temporary discomfort. Immediately after, Vitamin C is applied and so can makeup. Vitamin C and a sunscreen are encouraged and should be applied while healing.
The lesion will get darker and possibly scab before it sheds. It can take 7-21 days to shed completely. Healthy pink skin or lightening of the dark spot will appear. Maturation of the skin then follows the normal skin cycle of 6 weeks.
If the spot is appropriate, we charge $150 for the first three spots then $30 for each thereafter.
Leg Veins?
Sclerotherapy improves spider veins in your legs.
SKIN CARE SPECIAL:
Time to improve the texture of your skin in time for the holidays! Our Vita peel package is on sale in November and December. Regularly $450 for a package of three it is now $375 for a package of three.
Healthy living,
Peter McKenna, M.D.
513.793.5772
www.mckennamd.com
McKenna Cosmetic Surgery Center . 10577 Montgomery Road . Cincinnati . OH . 45242
A Cincinnati Magazine "Top Doc" since 1998
Leave a reply →