Breast Augmentations on new patients between now and May 31 are just $4995! This includes surgeon's fee, anesthesia and OR fees AND implants! Schedule your consultation by May 31 and complete the surgery by June 30. Some restrictions apply. Call for your complimentary consultation.
Botox Day is Tuesday April 17 with discounts on Botox and fillers such as Juvederm. Botox is $13/unit or $195/syringe (normally $16/unit and $240/syringe) and fillers are 10% off. Voluma is an injectable filler that augments and lifts the cheeks and Volbella subtly augments the lips and improves perioral wrinkles. A new product, Vollure, is for fine lines and wrinkles.
Mused after watching Patrick Reed win golf's most prestigious tournament, The Masters.
Mediterranean Diet
A Mediterranean-style diet has purported to reduce the risk of heart attacks, strokes, and deaths from heart disease. A recent study from the University of Barcelona published in the New England Journal of Medicine showed that those at a cardiovascular risk who followed this diet reduced their cardiovascular events by 28%.
The major component of the Mediterranean diet is heart healthy fats especially from olive oil and nuts. Study participants were told to consume either four tablespoons daily of either extra-virgin olive oil or an ounce of nuts (walnuts, almonds, or hazelnuts.)
(Did You Know? There is loose data supporting the Mediterranean diet and a slower rate of physical and cognitive decline in the elderly.)
Other components to the study:
At least two daily servings of vegetables, including a salad.
At least three daily servings of fresh fruit.
At least three weekly servings of legumes, such as beans, lentils, garbanzo beans, soybeans, and peas.
At least three weekly meals of fish or seafood, especially salmon, tuna, or sardines.
A sauce of tomatoes and onion, often including garlic and herbs, simmered in olive oil, at least twice a week.
Wine with dinner, for those who drank alcohol.
The participants were also asked to cut down on fatty and processed red meat, pastries, and fat-based spreads.
– Tufts University Health and Nutrition Letter
LA DOLCE VITA
Flank steak marinated in teriyaki sauce, garlic, olive oil, and a small amount of cayenne pepper. Grill each side 6-7 minutes. Don't overcook. Cut against the grain. Inexpensive, less fat than most other steaks.
TESTAMONIAL OF THE WEEK:
"Staff and Dr. McKenna made me feel very comfortable and cared for during my procedure. Everyone was awesome." Teresa
SERVICE OF THE WEEK:
Permanent Makeup for Eyebrows, Eyelids, and Luscious Lips!
Want to wake up and not have to put on makeup? Eyebrows sparse and need penciling in? Permanent makeup can improve those. A couple of hours and a very natural appearance can be attained. Eyebrows are done with individual strokes called microblading to create hairs. For April all permanent makeup will be 10% off. Contact Karine for any questions and the cost. 513-793-5772.

OTHER SERVICES
Cellulite?
Cellfina, www.cellfina.com, is the only FDA-cleared minimally invasive procedure clinically proven to improve the appearance of cellulite for at least three years. The best candidate has dimpling that is not caused by loose skin. The benefits are a long-lasting, single, in-office treatment that usually takes under an hour. No general anesthesia is needed and downtime is limited in most cases to the day of treatment. 96% of patients were satisfied after two years.

Facial Wrinkles?
Vollure is the newest filler for fine wrinkles. It doesn't project as much as Juvederm but is smoother and lasts up to 18 months. Volbella is a lip filler that DOES NOT exaggerate the lips but improves wrinkles and creases in the lips and the skin just above the lips. Studies show it lasts for about a year. Come in and see what it has done for Diane, Crystal and Dianna. Voluma augments the cheeks and lifts some of the lower tissues.
Neck Bands or Hypersweating under Arms?
Botox can help with both. Come in for a free consult.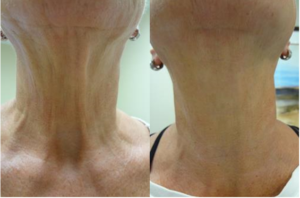 Weak Chin, Nasal Imperfections, Aging or Thin Earlobes?
Juvederm plumps chins and earlobes and sometimes nasal imperfections.

Fat under Chin?
Kybella is an injected solution that melts the fat under your chin.
Permanent Makeup?
Microblading is a technique of applying permanent makeup to your eyebrows with individual strokes simulating individual hairs. We also do permanent eyeliner and lips.
Lax Skin or Brown Spots?
Collagen Induction Therapy or microneedling reduces facial pigmentation and improves wrinkles.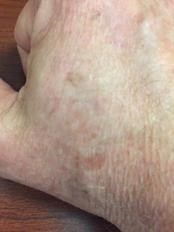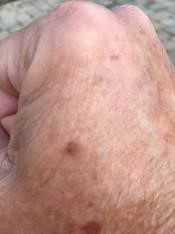 Pre-treatment One week three weeks
Leg Veins?
Sclerotherapy improves spider veins in your legs.
SKIN CARE SPECIAL:
Oily or Acne prone skin? Obagi has new acne cleansing wipes. Purchase them and get 20% off any vitamin C product.
Healthy living,
Peter McKenna, M.D.
513.793.5772
www.mckennamd.com
McKenna Cosmetic Surgery Center . 10577 Montgomery Road . Cincinnati . OH . 45242
A Cincinnati Magazine "Top Doc" since 1998
Leave a reply →