Patient Appreciation: In an effort to show how much we appreciate the loyalty of our patients we will be having a variety of specials. Some may be for one day, others like the micropeel and liposuction specials will last for months. Stay tuned…
Liposuction Special: One site (eg. tummy, lateral thighs, or neck) will be 10% off, two sites 20% and three or more sites, 30% off of the surgeon's fee. Consultation appointments must occur between now and August 31, 2018 and surgery performed before September 30, 2018. Liposuction recuperation in most cases is modest allowing you to continue to enjoy your summer! Some restrictions apply.
Mused after watching The Hundred-Foot Journey. A 2014 movie starring Helen Mirren, it blends food, cultures, family and love. Worth the watch.
Intermittent Fasting
Intermittent fasting is a hot topic among dieters and researchers. One reason that it is popular is the structure it provides while restricting calories. In this case, fasting doesn't mean not eating but rather significantly restricting caloric intake for that particular day, typically 500 calories. Common types include: alternate-day fasting, 5:2 fasting (where you fast for two days in a week) and prolonged nightly fasting. This is also called time-restricted feeding where you are allowed to eat only during a certain time period each day but can eat your usual foods.
Human trials suggest that intermittent fasting does help lose weight. The results from intermittent fasting however are similar to reduced calorie diets. The biggest problem with fasting is the long-term adherence to this lifestyle. Overall this just may be a way of jumpstarting your weight loss and will transfer over to a reduced calorie or just healthier diet to maintain lifelong.
To help manage hunger with any diet choose healthy foods, include protein-rich foods, eat fiber-rich, complex carbs, limit packaged foods, eat mindfully and enjoy the flavors of foods, and lastly get enough sleep to decrease unhealthy intake and cravings.
-Tuft's Health and Nutrition Letter
LA DOLCE VITA
Another experience I had while in NYC a few weeks ago was trying virtual reality. At the Guggenheim Museum they provided the headset and earphones to put on. A character started walking toward you and you could hear the squeaking of his shoes. He then picked you up and started dribbling you, but you were not a basketball. He then shot you at a basketball hoop and you fell away after missing. He did it again and made the shot. This lasted only about a minute but there is enough disorientation that I felt slight "seasick" afterwards.
OTHER SERVICES:
Permanent Makeup?
Micro-blading is a technique of applying permanent makeup to your eyebrows with individual strokes simulating individual hairs. We also do permanent eyeliner and lips.


OTHER SERVICES
Cellulite?
Cellfina, www.cellfina.com, is the only FDA-cleared minimally invasive procedure clinically proven to improve the appearance of cellulite for at least three years. The best candidate has dimpling that is not caused by loose skin. The benefits are a long-lasting, single, in-office treatment that usually takes under an hour. No general anesthesia is needed and downtime is limited in most cases to the day of treatment. 96% of patients were satisfied after two years.


Facial Wrinkles?
Vollure is the newest filler for fine wrinkles. It doesn't project as much as Juvederm but is smoother and lasts up to 18 months. Volbella is a lip filler that DOES NOT exaggerate the lips but improves wrinkles and creases in the lips and the skin just above the lips. Studies show it lasts for about a year. Come in and see what it has done for Diane, Crystal and Dianna. Voluma augments the cheeks and lifts some of the lower tissues.
Neck Bands or Hypersweating under Arms?
Botox can help with both. Come in for a free consult.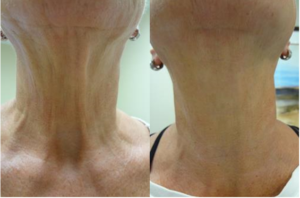 Weak Chin, Nasal Imperfections, Aging or Thin Earlobes?
Juvederm plumps chins and earlobes and sometimes nasal imperfections.

Fat under Chin?
Kybella is an injected solution that melts the fat under your chin.
Permanent Makeup?
Micro-blading is a technique of applying permanent makeup to your eyebrows with individual strokes simulating individual hairs. We also do permanent eyeliner and lips.
Lax Skin or Brown Spots?
Collagen Induction Therapy or microneedling reduces facial pigmentation and improves wrinkles.
Do you have unsightly brown spots on your face, hands or body?
SkinCeuticals (many of you use their skincare products) has developed a "pen" that uses cryotherapy or freezes age and sun spots as well as skin tags. It uses carbon dioxide which freezes the superficial part of the skin at -79 degrees C. The technique is similar to when family physicians and dermatologists use liquid nitrogen to treat skin cancers.
The procedure takes just a few minutes. The area is cleansed then sprayed with CO2 to freeze the spot. There is very little if any temporary discomfort. Immediately after, Vitamin C is applied and so can makeup. Vitamin C and a sunscreen are encouraged and should be applied while healing.
The lesion will get darker and possibly scab before it sheds. It can take 7-21 days to shed completely. Healthy pink skin or lightening of the dark spot will appear. Maturation of the skin then follows the normal skin cycle of 6 weeks.
If the spot is appropriate, we charge $150 for the first three spots then $30 for each thereafter.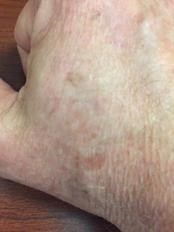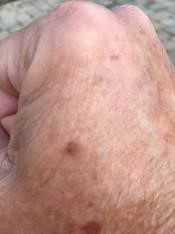 Pre-treatment One week three weeks
Leg Veins?
Sclerotherapy improves spider veins in your legs.
SKIN CARE SPECIAL:
Micropeels 3 for $235. Micropeels are individually $98. Limit one package of three per patient.
Healthy living,
Peter McKenna, M.D.
513.793.5772
www.mckennamd.com
McKenna Cosmetic Surgery Center . 10577 Montgomery Road . Cincinnati . OH . 45242
A Cincinnati Magazine "Top Doc" since 1998
Leave a reply →