Botox Day is Tuesday June 19 with discounts on Botox and fillers such as Juvederm. Botox is $13/unit or $195/syringe (normally $16/unit and $240/syringe) and fillers are 10% off. Voluma is an injectable filler that augments and lifts the cheeks and Volbella subtly augments the lips and improves perioral wrinkles. A new product, Vollure, is for fine lines and wrinkles.
Patient Appreciation: In an effort to show how much we appreciate the loyalty of our patients we will be having a variety of specials. Some may be for one day, others like the micropeel and liposuction specials will last for months. Stay tuned…
Liposuction Special: One site (eg. tummy, lateral thighs, or neck) will be 10% off, two sites 20% and three or more sites, 30% off of the surgeon's fee. Consultation appointments must occur between now and August 31, 2018 and surgery performed before September 30, 2018. Liposuction recuperation in most cases is modest allowing you to continue to enjoy your summer! Some restrictions apply.
Mused after watching Ghost swim for the first time. After canoeing I did what all fathers do, I put him in water over his head and made him swim. The retriever in him shined through.
Impressions of Depression and Suicide
I have read a number of articles the past two weeks after the deaths of Anthony Bourdain and Kate Spade. I don't profess to be an expert or have the answers but will provide insight that others have written about. Here are four different articles from prevalence to why life is always worth living. But first my own experience.
I was 17 when first exposed to someone who first hand experienced suicide. I called a girl I had dated a few times on Christmas morning to wish her well when she told me her mother had committed suicide the night before. I didn't know what to say. I'm sure many of you know of someone who has had a similar experience or at least know someone who is clinically depressed.
The suicide rates for women between 45 and 64 have increased 60% between 2000 and 2016. Experts say mental illness, substance abuse, loneliness, and financial and relationship problems all have contributed. The reason this age group is hit the hardest is that life satisfaction hits an all-time low in middle age according to Samantha Boardman an instructor at a NYC medical school. Depression and stress are also high in this group. The five most common stressors linked to suicide are problems with partners, job/finances, health, family and criminal/legal problems. The four mental disorders linked with suicide are depression, bipolar disorder, schizophrenia, and post-traumatic stress disorder.
Experts associate a number of words that signal depression. Those depressed tend to use the pronoun "I" more to signal attention. They also view the world in absolutes. "It always rains when I plan to go outside." The importance of a loved one is to pick up on these clues and bring them to the attention of the person so they may be aware and seek attention if needed according to James Pennebaker, professor of psychology at the University of Texas.
(Did You Know? The National Suicide Prevention Lifeline number is: 1-800-273-TALK (8255). Another option is www.suicidepreventionlifeline.org)
Karl Rove is a columnist whose mother committed suicide. He has some insight in his column. "Suicide is the most personal, solitary decision a human being can make." A friend contributes that it is unfortunate that society labels depression as a character flaw rather than an illness. "To those who contemplate suicide, realize the world won't be better for your absence. There will be a child, spouse or parent, a colleague or co-worker, neighbor or friend who will miss you more than you know. Despair can be overwhelming, but it is not permanent. We all need others to walk beside us in difficult moments. And remember, you are precious in the eyes of God and those who love you."
Lastly, intellectual honesty about the sorrows of life from Caroline D'Agati from The Federalist. She states that she is angry at Anthony and Kate and Robin (Williams) for the sake of their children but also for taking away the uniqueness they saw in the world and gave us. "Who can watch "Mrs. Doubtfire" and view it the same way?" Ms. D'Agati feels the truth to the reason they commit suicide lies between the biological and the loneliness and physical deterioration people feel. She recommends doing whatever it takes, medication, vacations, quitting your job and going to counselling or whatever it takes. She also believes what writer C.S. Lewis famously said, "I believe in Christianity as I believe that the sun has risen: not only because I see it, but because by it I see everything else." "if we believe this life is all there is, the darkness will blind us to the majesty and beauty of life."
LA DOLCE VITA
I spent yesterday with my father as many of you did. He is slowing down. I bought him a canoe a year and a half ago to replace the one he had stolen. He had not ridden in it because he does not have the strength to. Yesterday, it was my privilege to row him in the canoe like he has guided me in the canoe of life for many years.
TESTAMONIAL OF THE WEEK:
"I wanted to take the time to send you a note thanking you for giving me exactly what I wanted and dreamed of… I can't express the amount of gratitude I have for you and your team, and for providing constant support, comfort and encouragement throughout my entire journey. You have made such an impact on my life and I couldn't be happier with my results." Nell
OTHER SERVICES:
Permanent Makeup?
Micro-blading is a technique of applying permanent makeup to your eyebrows with individual strokes simulating individual hairs. We also do permanent eyeliner and lips.

OTHER SERVICES
Cellulite?
Cellfina, www.cellfina.com, is the only FDA-cleared minimally invasive procedure clinically proven to improve the appearance of cellulite for at least three years. The best candidate has dimpling that is not caused by loose skin. The benefits are a long-lasting, single, in-office treatment that usually takes under an hour. No general anesthesia is needed and downtime is limited in most cases to the day of treatment. 96% of patients were satisfied after two years.

Facial Wrinkles?
Vollure is the newest filler for fine wrinkles. It doesn't project as much as Juvederm but is smoother and lasts up to 18 months. Volbella is a lip filler that DOES NOT exaggerate the lips but improves wrinkles and creases in the lips and the skin just above the lips. Studies show it lasts for about a year. Come in and see what it has done for Diane, Crystal and Dianna. Voluma augments the cheeks and lifts some of the lower tissues.
Neck Bands or Hypersweating under Arms?
Botox can help with both. Come in for a free consult.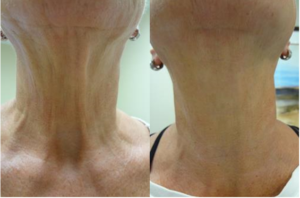 Weak Chin, Nasal Imperfections, Aging or Thin Earlobes?
Juvederm plumps chins and earlobes and sometimes nasal imperfections.

Fat under Chin?
Kybella is an injected solution that melts the fat under your chin.
Permanent Makeup?
Micro-blading is a technique of applying permanent makeup to your eyebrows with individual strokes simulating individual hairs. We also do permanent eyeliner and lips.
Lax Skin or Brown Spots?
Collagen Induction Therapy or microneedling reduces facial pigmentation and improves wrinkles.
Do you have unsightly brown spots on your face, hands or body?
SkinCeuticals (many of you use their skincare products) has developed a "pen" that uses cryotherapy or freezes age and sun spots as well as skin tags. It uses carbon dioxide which freezes the superficial part of the skin at -79 degrees C. The technique is similar to when family physicians and dermatologists use liquid nitrogen to treat skin cancers.
The procedure takes just a few minutes. The area is cleansed then sprayed with CO2 to freeze the spot. There is very little if any temporary discomfort. Immediately after, Vitamin C is applied and so can makeup. Vitamin C and a sunscreen are encouraged and should be applied while healing.
The lesion will get darker and possibly scab before it sheds. It can take 7-21 days to shed completely. Healthy pink skin or lightening of the dark spot will appear. Maturation of the skin then follows the normal skin cycle of 6 weeks.
If the spot is appropriate, we charge $150 for the first three spots then $30 for each thereafter.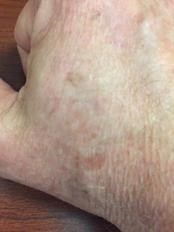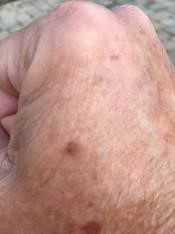 Pre-treatment One week three weeks
Leg Veins?
Sclerotherapy improves spider veins in your legs.
SKIN CARE SPECIAL:
Micropeels 3 for $235. Micropeels are individually $98. Limit one package of three per patient.
Healthy living,
Peter McKenna, M.D.
513.793.5772
www.mckennamd.com
McKenna Cosmetic Surgery Center . 10577 Montgomery Road . Cincinnati . OH . 45242
A Cincinnati Magazine "Top Doc" since 1998
Leave a reply →