20 Years a Cincinnati Magazine "TOP DOC"
Breast Augmentations on new patients between now and May 31 are just $4995! This includes surgeon's fee, anesthesia and OR fees AND implants! Schedule your consultation by May 31 and complete the surgery by June 30. Some restrictions apply. Call for your complimentary consultation.
Mused after watching some of the Royal Wedding. With all due respect, it was more fun watching the HBO spoof of the wedding headed by a bald Will Farrell. Catch it before it's gone.
Collagen in Foods
Collagen makes up a significant portion of our skin and other structures. Procedures such as chemical peels, micro-needling, dermabrasion and lasers stimulate production of new collagen to improve wrinkles and plump up the skin. Now collagen is appearing in foods to supposedly improve various structures the same way the above procedures do.
While it has been popular in Japan and Europe for a while, Americans are beginning to eat foods with collagen from coffee creamer to protein bars. It is sourced from the bones, skin, or cartilage of animals, treated with enzymes, dried and processed into smaller molecules to help absorption by the body.
(Did You Know? The FDA does not regulate supplements and does not approve food or dietary supplement labels.)
Dr. Mark Moyad, the director of alternative medicine at the University of Michigan, has reviewed more than 50 studies on collagen supplementation. He states the majority of studies have been done by the ingredient makers themselves and have sample sizes of fewer than 25 people. Dermatologists say there isn't any conclusive evidence that ingested collagen affects hair, skin or nails. Other things to consider are that animals sometimes have large concentrations of heavy metals which if ingested sufficiently over time can affect a body. Also, collagen's absorption could be affected by other ingredients it is mixed with.
-Anne Marie Chaker, WSJ
LA DOLCE VITA
I had dinner last night atMaggiano's to celebrate my mother's 79th birthday. It was their first time there. They enjoyed the get one take one home offer the restaurant provides. Doesn't matter though, Maggiano's portions are extremely large and we all took home a doggie bag. (Not for you Ghost)
TESTAMONIAL OF THE WEEK:
"I can't begin to thank you enough for giving me a fresh start and revamping my body image…I can't thank Dr. McKenna enough for his expertise, caring manner and guidance. You really are the best! The outcome was more than I could hope for…You have the best staff in the world and are lucky to have such competent and compassionate people like that surrounding you." Cindy
SERVICE OF THE WEEK:
Permanent Makeup for Eyebrows, Eyelids, and Luscious Lips!
Want to wake up and not have to put on makeup? Eyebrows sparse and need penciling in? Permanent makeup can improve those. A couple of hours and a very natural appearance can be attained. Eyebrows are done with individual strokes called micro-blading to create hairs. For April all permanent makeup will be 10% off. Contact Karine for any questions and the cost. 513-793-5772.


OTHER SERVICES
Cellulite?
Cellfina, www.cellfina.com, is the only FDA-cleared minimally invasive procedure clinically proven to improve the appearance of cellulite for at least three years. The best candidate has dimpling that is not caused by loose skin. The benefits are a long-lasting, single, in-office treatment that usually takes under an hour. No general anesthesia is needed and downtime is limited in most cases to the day of treatment. 96% of patients were satisfied after two years.

Facial Wrinkles?
Vollure is the newest filler for fine wrinkles. It doesn't project as much as Juvederm but is smoother and lasts up to 18 months. Volbella is a lip filler that DOES NOT exaggerate the lips but improves wrinkles and creases in the lips and the skin just above the lips. Studies show it lasts for about a year. Come in and see what it has done for Diane, Crystal and Dianna. Voluma augments the cheeks and lifts some of the lower tissues. The pictures below are of Volbella for lip enhancement.

Neck Bands or Hypersweating under Arms?
Botox can help with both. Come in for a free consult.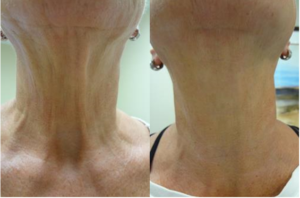 Weak Chin, Nasal Imperfections, Aging or Thin Earlobes?
Juvederm plumps chins and earlobes and sometimes nasal imperfections.

Fat under Chin?
Kybella is an injected solution that melts the fat under your chin.
Permanent Makeup?
Microblading is a technique of applying permanent makeup to your eyebrows with individual strokes simulating individual hairs.
Lax Skin or Brown Spots?
Collagen Induction Therapy or microneedling reduces facial pigmentation and improves wrinkles.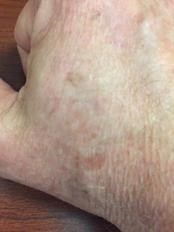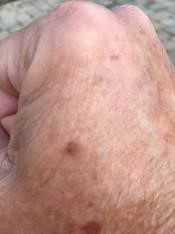 Leg Veins?
Sclerotherapy improves spider veins in your legs.
SKIN CARE SPECIAL:
Oily or Acne prone skin? Obaji has new acne cleansing wipes. Purchase them and get 20% off any vitamin C product.
Healthy living,
Peter McKenna, M.D.
513.793.5772
www.mckennamd.com
McKenna Cosmetic Surgery Center . 10577 Montgomery Road . Cincinnati . OH . 45242
A Cincinnati Magazine "Top Doc" since 1998
Leave a reply →